EVO42
EVOLUTION 42 MAGNETIC DRILLING SYSTEM
EVO42
EVOLUTION 42 MAGNETIC DRILLING SYSTEM
EVO42 1-5/8" Industrial Magnetic Drill Ideal For: Bridges, I-Beams & Framework
 _____________________________________________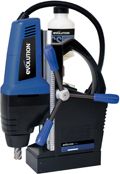 This incredible Magnetic Drill is deceptive in its capabilities; although small in size it revels in heavy-duty industrial and fabrication work. Versatile, accurate and portable, with strong magnetic adhesion (2850lbs f). The cuts are precise and clean due to an optimised rotation speed (450rpm) and all popular broaching capacities are covered (1/2" - 1-5/8").
With so many buildings being built around a Steel framework, a magnetic drill is an essential piece of kit and ideal for site use. Of course, if the Steel has to be joined to timber there simply is no substitute, simple, easy-to-use and incredibly accurate. The EVO42 is also easy to carry (with the supplied case) and it's lightweight making it easy to position in both awkward and confined spaces.
The innovative adjustable head enables twist drills to be used to full capacity, when fitted with the Chuck Adaptor (HTA47). The EVO42 offers incredible value and an impressive 1/2" twist drill capacity, with the added capability to use up to a 1-5/8" cutter! The EVO42 also features an integrated Coolant system, for magnetic drilling.
Optional accessories include the Premium Grade 6 Piece Cutter Set (1" Depth) includes 15/32", 35/64", 5/8", 45/64", 25/32" & 55/64" cutters & pilot pins. Evolution also offer a range of cutters in sizes from 1/2" up to 1-5/8", available in 1mm increments.
Learn More Here:
×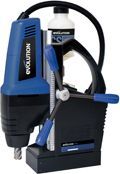 ×